ROTRA Ihr Partner für Automation seit 1987
RO

tation +

TRA

nslation = Automation
Probot probe robot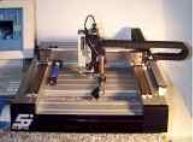 Microassembly Inspection
Devices for laboratory and glass industry are developed in close
cooperation with the Bronnbach Branch of the Fraunhofer-Institut
Silicatforschung ISC.
Development
AUTOJUST calibration unit for pipettes and burette tubes.
Photo: Copyright Fraunhofer Gesellschaft
A series of machines for calibration of flasks, cylinders, pipettes and
burettes can be delivered.
Machine types as Aquajust, Autojust, SpeedCal, QCC have been delivered.
Special ROTRA know how:
Force controlled grinding of glass
cylinders with optical control.
Machines: Compact 3-station calibration
machine for volumes up to 30 ml.
Software: The use of video processing enables precise positioning
and measurement.
Applications





ROTRA
Your partner for automation since 1987